Joint Graduate (Master's Degree) Studies: International Basketball Coaching and Management
Home ›
Master ›
Joint Graduate (Master's Degree) Studies: International Basketball Coaching and Management
Program Description
MSc International Basketball Coaching and Management
Overview
Faculty: Sports Biomedicine
Language: IELTS 6.0, TOEFL 5.50 or an equivalent foreign language test, level B2
Credits: Post Graduate Certificate (PG Cert.) = passed a minimum of 60 credits at Level 7; MSc degree (Master's degree) = passed a minimum of 120 credits at Level 7
Study type: Full-time
Duration: 2 years
Annual tuition fee: 2000 EUR; Non-Europe – 3000 EUR
Prerequisites: Graduates from university program – holding a Bachelor's degree in Sport
Diploma: Master of Sports
Objectives
The goal of the joint study program of the second cycle Basketball Coaching and Management is to train a Master of Sport able to evaluate different basketball coaching and management systems, programs and their structures applied in various European countries, use advanced technologies in basketball coaching, creatively solve complex problems, make the right conclusions, relate practical experience with acknowledged professional competency training and learning models on the basis of international level achievements in fundamental and applied interdisciplinary science and technology.
Study Plan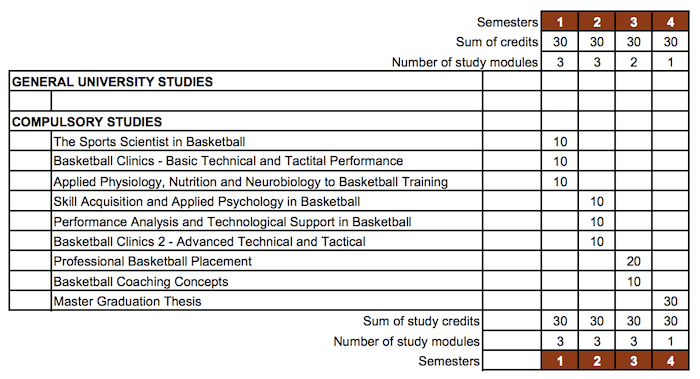 Competences
Upon the completion of the study program, a student will be able to:
Understand and analyze basketball coaching theory and issues in modern coaching.
Know and critically evaluate modern basketball trends in social, economic and theoretical aspects.
Understand the application of quantitative and qualitative research methods in basketball coaching.
Understand the strategic objectives of European sport and the development priorities; be able to analyze and evaluate the change of basketball in the world and Europe; prepare for the challenges and leadership.
Apply adequate research methods in the area of basketball.
Design and implement a research project in the field of modern basketball coaching; be able to apply appropriate methods and analyze them critically.
Interpret the research data constructively and assess data dissemination.
Analyze the significance of basketball coaching, different strategies, and prospects, exercise the synthesis of science and theory in solving complex problems of education in a systematic and creative way, provide conclusions for sports professionals and the public.
Demonstrate purposefulness and originality while identifying and analyzing the needs, formulating solutions and evaluating strategies in the context of basketball coaching.
Present his / her own and other persons' organizational and scientific research-based solutions clearly and convincingly; submit strategic proposals for basketball and sports activities to coaches, training specialists, and the public on their basis.
Analyze critically, distinguish values and form strategies; develop basketball coaching skills in his/ her workplace.
Develop a professional practitioner's critical self-awareness and self-esteem, analyze the content of a basketball workout, practically substantiate the methods needed for training.
Strive for continuous development, needed for analytical applied activities of a researcher, basketball coach and sports specialist.
Design basketball players and sports training programs for persons of different age to carry out research and implement innovation.
Take responsibility for the quality of subordinate employees' (players') activities, their evaluation, and compliance with professional ethics.
Take responsibility for his / her own and his / her subordinates' professional development.
Demonstrate initiative and personal responsibility when working alone or with others when it comes to solving problems.
Make decisions in complex situations, employ systematic and creative methods and convey conclusions clearly.
Develop a distinctive thinking and independent approach to learning, which is essential to a thoughtful practitioner for personal and professional development.
Develop critical self-reflection and independent approach to learning in the area of basketball coaching.
Evaluate foreign cultures and integrate into a different ethnic and cultural environment when studying and/or working abroad.
The joint study program of the second cycle Basketball Coaching and Management focuses on the development of general abilities and values of a person, emphasizing knowledge analysis, critical evaluation and practical application of knowledge, implementation, problem identification and solution rather than a simple knowledge transfer and adoption.
Career Opportunities
Upon completion of a Master's degree program, students will be able to work as researchers-analysts of training technology, coaches of the highest qualification in Lithuanian or foreign institutions in public or private sector or player selection managers.
The content of the study program will provide the opportunity to acquire practical skills in education. A graduate will have professional knowledge and skills that will enable him/her to critically evaluate the content of basketball coaching and pursue a career as a basketball coach.
Master's degree in Sport will give students the opportunity to pursue a career in many fields of sport, useful not only in the area of sports coaching but also in business activities. The knowledge acquired can be used in such areas as basketball training, youth education, basketball analysis or research activity, working as health promotion or physical capacity-building professional.
Access to further study: upon successful completion of the study program, students will have access to third-cycle studies in the field of Biomedicine or Social Sciences.
Distinctive characteristics of the study program: it is a unique international joint study program, the need for which has been confirmed by social partners.
Learning and teaching activities: lectures, seminars, individual work, tutorials.
General Admission Requirements
Online admission procedure for international students
Foreign nationals can be admitted into English taught programs of the Lithuanian Sports University if they provide the legalized secondary school, high school, or college certificate or diploma. Transcripts must be officially translated into English.
The recommended English language skills for degree students at the start of their study period are B2 according to the Common European Framework of Reference for Languages (CEFR) or corresponding IELTS (5.0), or TOEFL (55)*.
Legalization of Educational Documents
Applicants, who received their education in countries-members from the Hague 1961 Convention (e.g. Israel, Italy, India, United Kingdom, USA, Australia, Venezuela, etc.) should have an attached Apostille to their educational documents (in most countries the Apostille is issued by the Ministry of Foreign Affairs or the Ministry of Education.)
The education documents of applicants who received their education in any other country (Lebanon, Jordan, Philippines, Syria, Iraq, Iran, Pakistan, etc.) should be legalized by the Ministry of Foreign Affairs or the diplomatic mission or consular post of the country where education was received.
Steps of admission to LSU:
Fill in and submit an online application form;
Apply for and submit the recognition document of foreign qualifications issued by SKVC;
Participate in SKYPE interview*;
Receive a letter of acceptance;
Apply for and receive a National D visa if needed;
Come to Lithuania and start your studies.
*Admission Board can invite the applicant for the interview on Skype, before taking a final decision on admission.
Note:
Admission Board will send the final decision in August 2-9,2021 on admission and informs the applicant by the Conditional letter of Acceptance;
By submitting the documents applicant agrees for one's information to be shared with other institutions that the University might refer to while processing the academic verification.
Last updated Nov 2020
About the School

Lithuanian Sports University (LSU) is proud to be the only specialized university in Lithuania, which has been uniting Movement and Sports Science for over eight decades.
Lithuanian Sports University (LSU) is proud to be the only specialized university in Lithuania, which has been uniting Movement and Sports Science for over eight decades.
Read less