Read more about this program on the school's website
Program Description

The International Master in Marine and Maritime intelligent Robotics seeks to train a new generation of interdisciplinary professionals who are capable of combining Robotics and Artificial Intelligence in the context of advancing marine and maritime science and their technological applications.
Why choose MIR?
Receive an international double master's degree from 2 distinguished EU universities
88 Erasmus Mundus Scholarships available, including other industry grants
Internship and thesis opportunities with the MIR global network of 50+ industry and research partners in 21 countries
Excellent blue growth industry career prospects and numerous possibilities to continue on to PhD
Participate in international research events and robotics and AI championships
Learning-by-doing approach with industrial partners involvement and tailored careers advice
Teaching exclusively in English
Students completing the MIR Master's will be highly competitive experts equipped to follow a promising career in robotics or AI for the offshore oil and gas, renewable, naval and maritime sectors. Additionally, the knowledge acquired in the use and function of intelligent robotics for the underwater will enable them to continue on to a Ph.D. in different fields.
MIR: A Global consortium of 50+ partners
The consortium is formed of 4 main academic partners namely, the Norwegian University of Science and Technology NTNU, the Universitat Jaume I UJI (Spain), the Instituto Superior Técnico IST, University of Lisbon (Portugal), and is coordinated by the University of Toulon UTLN (France).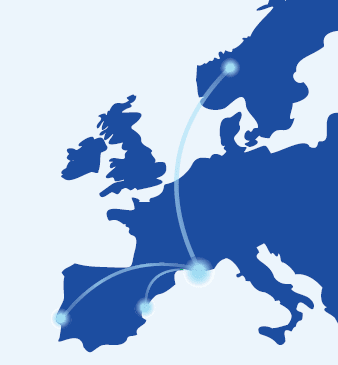 The MIR MSc relies on an expanding multidisciplinary network of 25 global associate academic institutions in marine/maritime sciences, AI and robotics, and over 26 leading industry partners, in 21 countries.
Scholarships
An average of 22 Erasmus Mundus Scholarships are available per year for MIR students of excellence.
What does the Erasmus Mundus Scholarship cover?
The Erasmus Mundus scholarship covers the participation costs, tuition fees, a monthly allowance for living costs and a contribution to travel and installation costs. Each successful candidate receiving an Erasmus Mundus scholarship will receive:
1,000 EUR each month for living costs during the 24 months duration of the program.
A maximum of 7,000 EUR contributions to travel and installation costs.
Coverage of participation costs of 9000 EUR (EU students) and 18000 (Non-EU students).
Industry scholarships
The MIR program has the support of leading robotics companies that are willing to fund scholarships to excellent candidates as well as host them for paid internships in their companies.
Tuition Fees
The MIR tuition fees are set at
€4500 per year for Program Country students.
€9000 per year for Partner Country students.
Tuition fees are equivalent to the Erasmus Mundus participation costs covered by the EMJMD scholarships.
The annual tuition fees/participation costs cover:
Enrollment and tuition costs at local universities.
Insurance cover.
Annual Symposium and Marine intelligent robotics championships costs (1 week).
Induction week activities.
Travel and registration costs to selected conferences, on condition of publication acceptance.
MIR Study program and mobilities
Students follow the MIR program for over 2 years (4 semesters/120 ECTS).

The first year in France UTLN commences by building up a solid background in marine science, robotics, and AI. The year is completed with specialized industry seminars and masterclasses by international distinguished lecturers, including an international symposium and marine robotics and AI championship.

In year 2, students choose to specialize in "Autonomy in subsea operations" at NTNU, "Cooperative marine robotics for scientific and commercial applications" at IST or "Applied robotics for underwater intervention missions" at UJI.

Semester 4 is devoted to a Master's thesis in the context of a research or industry internship. It is carried out at any of MIR's main or associate partners, always under the co-supervision of the main partner.

Teaching is done in English. MIR graduate students will obtain 2 master's degrees from the institutions in which they study during the first and third semesters. The degrees are fully recognized, include a diploma supplement and give access to Ph.D. study programs.
Admissions
Apply Now, to the MIR program by visiting applications for Erasmus Mundus Scholarships are open until the 9th of January 2020.
Who can apply?
European and third-country students who already hold a first university degree (min 180 ECTS), in a field related to Robotics or AI such as automatic control, mechatronics, computer science, electrical engineering, mechanical engineering or applied mathematics. Applicants must have 30 ECTS (approx. 1/6th of their modules) in mathematics, be fluent in English (min level B2) and have knowledge of one programming language.

MIR associate partners
Artificial intelligence

German Research Centre for Artificial Intelligence (DFKI), Germany (6)

French national research institute for the digital sciences (INRIA), France (8)

Sofresud company, France (56)

Toulon Var Technologies (TVT), Innovation association, South of France (58)

Autonomous Systems

Genova University, Italy (9)

University of Montpellier, France (12)

ECA Robotics company, France (33)

Cybernetix company, France (35)

Water Linked AS, Norway (36)

Spin.Works company, Portugal (43)

ixBlue company, France (47)

CNIM company, France (50)

Robotics/ engineering

University of Sidi Mohamed Ben Abdellah, Morocco (17)

Institute of Technology of Cambodia, Cambodia (18)

Antonine University, Lebanon (20)

Hanoi University of Science and Technology (HUST), Vietnam (21)

Universiti Kuala Lumpur, Malaysia (23)

National Engineering school of Sousse, Tunisia (26)

Khalifa University of Science & Technology, Abu Dhabi, United Arab Emirates (27)

Universidad Nacional de San Agustin de Arequipa, Peru (28)

Universidad Pontificia Bolivariana, Colombia (29)

Taras Shevchenko National University of Kyiv, Ukraine (31)

THALES company, France (32)

BlueEye (37)

IQUA Robotics, Spain (38)

Robotnik company, Spain (39)

Ingenieria y Soluciones De Movilidad S.L. (INGESOM) company, Spain (40)

Abyssal company, Portugal (42)

Nexeya company, France (49)

Alierys company, France (54)

Searov company, France (55)

Subsea tech company, France (57)

Marine Sciences

University of Bremen, MARUM, Germany (5)

French Ocean Institute, IFREMER, France (7)

Universitat de les Illes Balears, Spain (14)

Aquaculture Institute of Torre de la Sal (15)

Fundación CEIMAR, Spain (16)

National Vietnam Hanoï University of Science VNU-HUS, Vietnam (19)

Fundaçao Universidade de Brasilia, Brazil (24)

Universidad de Chile, Chile (25)

Geosurveys company, Portugal (41)

IN2SEA company, Portugal(44)

Chamber of commerce and industry, Var region, France (48)

Kietta company, France (53)

Maritime Systems

National Superior Maritime School (ENSM), France (10)

National Engineering School (ENSTA Bretagne), France(11)

University of the Aegean, Greece (13)

Nelson Mandela University, South Africa (22)

Vietnam Academy of Science and Technology, Vietnam (30)

NAVAL Group company, France (34)

Strategis - Maritime Information, Communication and Technologies Cluster, Greece (45)

Alseamar company, France (46)

Sea proven company, France (Seaproven) (51)

Stat Marine, UK (52)
Last updated Sep 2020
About the School

The University of Toulon was founded in 1968 and is an interdisciplinary institution with 3 campuses. The University offers a hundred different degrees (excluding medical school) and operates 15 Rese ... Read More
The University of Toulon was founded in 1968 and is an interdisciplinary institution with 3 campuses. The University offers a hundred different degrees (excluding medical school) and operates 15 Research Units. Well-established throughout the region, the University of Toulon works closely with the region's social and economic institutions to tailor its academic programs and research activities to their needs.
Read less