Master in Advanced Engineering Materials
Home ›
Master ›
Master in Advanced Engineering Materials
Program Description
Study Branch
Materials Engineering
Branch Profile
The new Master's study branch Advanced Engineering Materials in the study program Materials Engineering is based on the integration of three former study branches: Engineering Materials, Materials Diagnostics and Design, Non-Ferrous Metals and Special Alloys. These study branches represented the principal study branches in the study program Materials Engineering in the past.
The Master's study branch Advanced Engineering Materials picks up on the study branch having the same name in the bachelor study program. In the Master's study program students firm and fill knowledge and skills acquired during bachelor study. Furthermore, they gain further knowledge and skills to be able to understand the depth and breadth of engineering materials in interrelationships.
The conception of the new study branch is the following: There are fundamental subjects such as Physics of Solids, Phase Transformations, Degradation Processes of Materials, Surface Engineering, Computer Simulation and Modelling in Materials Engineering. These subjects are suitably combined with other subjects in order to fulfill the learning outcomes given hereinafter. It can be assumed that the new Master's study branch Advanced Engineering Materials will become the most important study branch in the Master's study program Materials Engineering.
Key Learning Outcomes
Knowledge
Graduates will have gained a deep knowledge of the subjects that represent an applied base of the study branch, e.g. physics of solids, phase transformations, degradation processes of materials, surface engineering etc. in such a level, which makes possible their application in other subjects and also in engineering practice.
Graduates are able to describe detailed characteristics of different groups of engineering materials including materials for special purposes; they know detailed relations between the internal structure of materials and their properties; they know advanced concepts of material properties improvement by means of changes in the technology of material production and by means of structure modification.
Graduates are able to characterize both basic and advanced methods of material properties testing, they can use even sophisticated methods of structural analysis. They are able to choose appropriate methods for material analysis depending on the kind of materials and purposes of their utilization.
Graduates can define advanced concepts of material degradation mechanisms; they can differentiate all important characteristics that play a key role in the resistance of materials to the different degradation mechanisms.
Graduates are aware of limits of use of defined concepts or approaches and conditions of their use in practice.
Skills
Graduates are able independently and creatively:
Perform a complex analysis of materials, their production technologies, properties etc.; to analyze and judge existing engineering solutions in the field of materials and to propose new innovative solutions.
Perform an advanced material design taking into account all relevant properties in use (e.g. external loading; environment, etc.).
Design suitable testing methods to evaluate materials properties as well as methods to evaluate materials structure. They are able to analyze obtained results in a highly qualified manner. They are also able to perform some kinds of testing by themselves.
Perform sophisticated exercises in the field of materials engineering.
Analyse relevant information and on their basis to judge existing technological procedures of material manufacturing and further processing and to propose innovative technological procedures.
Exploit acquired knowledge and skills for both fundamental and applied research in the field of materials, mainly for a research and development of innovative materials with higher properties and also for an introduction of these materials into the production.
General Competencies
The graduates dispose of general competencies to the extent that is defined by the National qualifications framework for tertiary education with an emphasis on communication, governing and organization skills. They are able to communicate at least in one foreign language.
Occupational Profiles of Graduates
Students of the Advanced Engineering Materials Study Branch will deepen their knowledge in all important groups of materials: from metals, through polymers, structural ceramics up to composites.
They will get a deeper understanding of microstructure-property relationships and advanced methods of materials characterization. Students will have an opportunity to work on modern experimental facilities and to participate in the solutions of industrial problems. They can take part in the studies in abroad, what will lead to the improvement of their language skills. All of this will bring them outstanding opportunities in the job market: in industrial companies, in scientific and research institutes, in marketing departments, and in educational organizations, etc.
Admission Requirements
Determined by Dean, may include entrance examination, other formal documents.
Graduation Requirement
120 ECTS Credits, Final state examination, Diploma thesis
Course Structure Diagram with ECTS Credits
List of courses is available at the detailed branch description page 30 ECTS credit per semester.
Last updated Jan 2018
About the School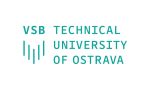 VSB-TUO is the top ranked university in Czech Republic, drawing on 160+ years of research and academic excellence to provide world class education to 19,000 students from six continents. according to ... Read More
VSB-TUO is the top ranked university in Czech Republic, drawing on 160+ years of research and academic excellence to provide world class education to 19,000 students from six continents. according to Times Higher Education Ranking
Read less