Master in Computer Science and Technology
Home ›
Master ›
Master in Computer Science and Technology
Program Description
Faculty of Electrical Engineering and Computer Science
Study Branch
Computer Science and Technology
Branch Profile
The Master's course of Computer Science and Technology provides the students with an education designed to help them find employment mainly in the field of creation and administration of various extensive and complex software products, in the creation and administration of computational systems and computer networks, in the production of computers and their components, and finally, among others, in the fields of business and education. Apart from the knowledge ensuring very good chances of employment in practice, the students are educated in relevant theoretical areas as well, which enables them to find employment in R&D as well as to continue their studies in the doctoral programme.
Key Learning Outcomes
- Knowledge
In comparison with the Bachelor's level, the Master's knowledge of the preparation theoretical disciplines (e.g. mathematics, discrete mathematics, and theoretical informatics, logics) are deeper and broader. Moreover, the graduate is able to perform analyses. Also, there are more complex, theoretically demanding, or less frequent areas of informatics, such as the processing and analysis of data of various kinds, including multimedia data and very extensive data, systems implementing artificial intelligence, cognitive robots, systems of machine perception and recognition, computer modelling of various systems, designing of special (e.g. very powerful) computational systems. In the above mentioned areas, the graduate is capable of evaluation, and he/she also understands the elementary scientific methods used here.
- Skills
The graduates can design pieces of work of a large extent (e.g. software products, computation systems) as well as theoretically and technologically demanding pieces of work and can implement them as members or leaders of teams. They are able to choose the suitable procedure and technology for the solution. In non-standard situations they can modify the commonly used procedures appropriately. They can compare and evaluate various procedures. They can defend suggested solutions in a professional discussion. As a team member, the graduate can independently perform very demanding partial tasks. He/she can administer extensive and complex systems. The graduate can draw up extensive texts presenting complex ideas.
- General competencies:
When dealing with problems, the graduates can communicate with people, e.g. with other team members or with customers when specifying the tasks and handing over products. They can manage a problem-solving team, define the targets, determine strategies, choose alternative solutions, present and defend their opinions and chosen solutions, study technical literature, bear responsibility for their decisions and the work of the team, and educate themselves in the given branch as well as communicate with experts of the branch in a foreign language, especially English.
Occupational Profiles of Graduates
The graduates can find employment both as operating and managerial workers in various areas, such as in the creation and administration of various extensive and demanding software products, in creation and administration of extensive computational systems, in creation and administration of extensive computer networks, and in creation of software products for theoretically demanding computational procedures as well as in research, development, consulting and teaching activity within the branch.
Admission Requirements
Determined by Dean, may include entrance examination, specific courses taken during bachelor studies, other formal documents.
Graduation requirement
120 ECTS Credits, Final state examination, Diploma thesis
Course Structure Diagram with ECTS Credits
30 ECTS credit per semester.
Last updated Feb 2018
About the School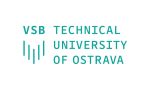 VSB-TUO is the top ranked university in Czech Republic, drawing on 160+ years of research and academic excellence to provide world class education to 19,000 students from six continents. according to ... Read More
VSB-TUO is the top ranked university in Czech Republic, drawing on 160+ years of research and academic excellence to provide world class education to 19,000 students from six continents. according to Times Higher Education Ranking
Read less