Master in International Health Care Management
Home ›
MA ›
Master in International Health Care Management
Program Description
Make a difference
Whether it is in hospitals, outpatient care, medical tourism or health or long-term care insurance: Doctors, nurses, and the entire healthcare sector are becoming increasingly international.
This Master's degree program provides you with the necessary leadership skills to start or boost your management career in the German and European healthcare sector. During your studies, you deal with the complex relationships between business activities and the resulting ethical and social consequences. After graduating, you will be able to successfully fill leadership positions in healthcare companies such as hospitals and nursing homes, as well as consulting firms and medical and pharmaceutical manufacturing companies.
Facts & Figures
Degree:
Study model:
Duration:
Master of Arts (M.A.)
on Campus
2 semesters
Intakes:
Tuition
Admission
Bad Honnef: March, September
Berlin: April, October
from 6,290 EUR per semester
Bachelor's degree, placement test if necessary,
proof of English language skills
What you will learn from us
The International Health Care Management Master's degree program gives you excellent preparation for your career in the healthcare sector – an industry with great development potential and very good job prospects:
You deal intensively with the complex processes of healthcare management.
You deal with common state and private healthcare systems as well as with the planning, development, and implementation of clinical processes.
You identify the most important requirements in strategic management and learn how to implement them using the most important management tools.
You deepen your knowledge of quality-management instruments such as audits, risk management, controlling and monitoring.
You learn about the foundations of HR management – especially against the background of increasing staff shortages, e.g. in the healthcare sector.
Course of study at a glance
1st Semester
Strategic Aspects of the Service Industry
International Health Care Systems
Clinical Supply Chain Management
Clinical Governance and Risk
Evidence-Based Medicine
Strategic Hospital Management
2nd Semester
Master Thesis and Colloquium
Pixabay / Pexels
How does the course of studies work?
For our two-semester Master's program, you need a Bachelor's degree with 240 ECTS. If you already have professional experience or take our TASC placement test, a Bachelor's degree with 210 ECTS may be sufficient.
Where you will be studying
You can pursue our Health Care Management Master's degree at the two German campuses in Bad Honnef and Berlin.
Career Possibilities
Occupational Health Management Consultant
Motivated and healthy employees are at the foundation of every successful company. As a company health manager, you create health-friendly working conditions for employees at your company. Your job is also to encourage employees to behave in a healthy way. Occupational health management covers occupational health and safety, occupational integration management, human resources management, and workplace health promotion. For example, you are responsible for the reintegration of chronically ill employees, for the prevention of accidents at work and occupational diseases and for the promotion of employee health.
Hospital Account Manager
As an Account Manager, you handle hospitals in your area and are the contact persons for hospital management and hospital pharmacies. As part of this, you work on building long-term customer relationships, developing and managing your customers with a focus on sales targets, measures & projects, responsibilities, and investments. You also analyze the customer's position with regard to new forms of care and systematically evaluate the activities of your customers in terms of new potentials.
Healthcare Business Consultant
As a consultant in the healthcare sector, you advise national and international companies in the healthcare sector. To do this you carry out market and competition analyses, implement restructuring processes and actively develop value-creating strategies for your customers.
Last updated Feb 2020
About the School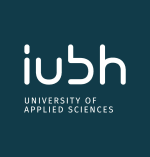 IUBH Campus Studies at IUBH University of Applied Sciences offers on-campus degree programs that have a strong international focus: all courses are taught in English, the curriculum is aligned to the ... Read More
IUBH Campus Studies at IUBH University of Applied Sciences offers on-campus degree programs that have a strong international focus: all courses are taught in English, the curriculum is aligned to the future needs of international companies. Professors and students from over 85 nations meet and work together on–campus.
Read less