Master of Art in Cultural Management
Home ›
MA ›
Arts ›
Master of Art in Cultural Management
Program Description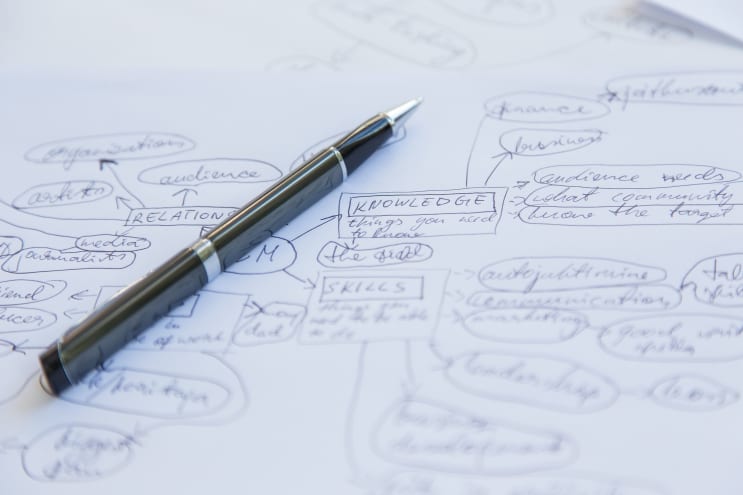 Cultural Management MA International Program is operating since fall 2002 with the objective to educate professional managers of arts organizations with vision, entrepreneurs promoting cultural industry, administrators and change-makers in the field of cultural policy. The program was founded in close co-operation with Sibelius Academy, Finland and Tartu University, Estonia.
Our long-term experience, broad expertise in a variety of cultural domains, ample network of partners we can create a unique ecosystem and pool of expertise where students, educators, cultural professionals, policymakers, artist, and activist can draw inspiration, knowledge, and skills for enabling change in their respective fields.
Since 2012 the program continues as Joint MA Program with partner Estonian Business School and associate partner Estonian Academy of Arts. The joint program is international, interdisciplinary and flexible with an emphasis on management of culture and creative industries. The MA program is intended for those interested in managing cultural institutions and organizing projects - ideal for anyone with experience in the field or deeper interest in culture. Trends in creative industries and wider understanding of a cultural management importance in the society at large give this program unique position among the other curricula. Using active learning methods and lively discussion, the course offers students a chance to engage in cultural discourse, learn about creative industries and cultural entrepreneurship and provides an access to creative networks. 15 years of experience has given the leaders of the program a very concrete vision to act as a solid and legitimate player on the international level of professional cultural management education combining international knowledge experience with Estonian innovation-driven methods of education.
The interdisciplinary program serves all culture domains and so far have nearly 70 graduate students.
Since the aim of the program has been from the very beginning to involve competence from abroad, more than a half of the lecturers of the program are coming from outside Estonia, including Finland, Germany, UK, Denmark, Austria, Poland, Romania, Slovenia, France, US, etc. Involving the international competencies to the master studies is crucial in order to provide professional future art managers capable of cooperations and co-creation at European and global level.
Alumni of the program play important roles in current Estonian cultural management field, affecting cultural organizing remarkably. Entirely taught in English, the program is easily reachable for foreign students and gives a general strong advantage for students on the international field. Internationalization also enables opportunities to build a wide network for the future. By now, the program has released 7 current Ph.D. students actively involved in the academic development of the cultural management field on an international level.
As a unique feature, since 2013, the program is involved in developing a novel understanding on the interaction between art and society and increasing the skills and competencies of future cultural managers to foster the valuable interface, as well as in the improvement of the societal impact of Higher Education Institutions within the EU funded projects Managing Arts Projects with Societal Impact (MAPSI) and Higher Education Institutions for Societal Engagement (HEISE). As a result of international cooperation within these projects, the Program offers summer schools and innovative courses in an online environment. More info about MAPSI www.mapsi.eu.
To answer the need of constantly changing cultural field, and to expand the impact for outside the academia, since September 2010 Cultural Management Program is offering training for practitioners from different cultural fields. The aim of in-service training is to improve the competencies of practitioners working in cultural organizations, creating the forum for the discussion at the same time.
The Cultural Management Program of the EAMT is a member of the European Network of Cultural Administration Training Centres (ENCATC). The program is also coordinating the ActinArt network of artistic academies for creative entrepreneurship education (Aarhus Royal Academy of Music, Stockholm University of the Arts, Sibelius Academy, Lithuanian Academy of Music and Theatre, Kaospilot and Danish National School of Performing Arts).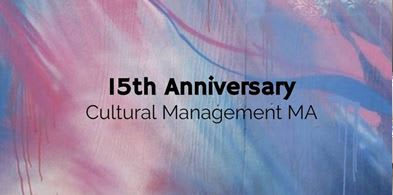 Organisation of studies
Studies for the next group will commence in September 2018. Classes take place in the center of Tallinn, and the schedule will be sent to new students by e-mail in August. Studies are organized as a combination of obligatory and elective courses that are delivered either as weekly lectures that run throughout the semester or intensive blocks over 3 to 5 days. This means students can benefit from a flexible program to balance studies with work and other commitments. The first three semesters have quite full schedules, while apart from a couple of seminars the fourth semester is free for you to work on your MA thesis. As part of our individual approach to all students, you may be eligible for advanced standing in recognition of previous studies and work (VÕTA program). International students may also apply for a DORA scholarship. Further information on these programs will be given to foreign students after admission.
Learning outcomes of program
Upon completing the curriculum, the student will be able to:
Demonstrate broad and systematic knowledge of cultural management, its main concepts, issues and research methods;
Display understanding of the current trends and issues of cultural management, cultural politics, and creative economy;
Perceive interdisciplinary relations;
Recognize and verbalize, in a creative way, the problems and issues of cultural management, as well as solve them with appropriate methods by applying a broader background of social sciences and humanities;
Discuss creative leadership and arts organizations, apply new theoretical knowledge in practical work and exhibit self-analysis in a wider context;
Take on the responsibilities of a local/national cultural leader, manager or official, cultural entrepreneur or research worker, applying appropriate leadership and teamwork skills;
Transmit knowledge, professionalism, and competence as teacher or instructor, display good command of performance skills; argue both verbally and in written form the various issues and underlying theories of cultural management;
Effectively participate in teamwork, both at work and in everyday life, display social responsibility and exhibit tolerance for different attitudes and values;
Take proper decisions in ethically complicated situations, demonstrate awareness of the moral and ethical aspects, as well as the possibilities, limitations and wider consequences of one's professional activity, discuss and argue topics and issues related to cultural life, creative industries, and cultural management;
Evaluate critically the knowledge and skills obtained, continue further with professional studies or participate in research, both in Estonia and abroad
The content of study program
A Major field of study 64 ECTS:
Environment of culture 21 ECTS
Leadership and organizational behavior 12 ECTS
Finance and marketing in the art context 12 ECTS
Entrepreneurial thinking (12 ECTS) and Specialty courses (7 ECTS) 19 ECTS
Project Work (5ECTS)
B Courses related to master's thesis 18 ECTS
T Master's thesis 30 ECTS
E Selective courses 5 ECTS (Elective courses, altogether 5 ECTS credits, have to be selected from modules MK06-MK09).
Free selective min 3 ECTS or MAPSI 5-15 ECTS
Requirements for graduation; qualification documents - graduation thesis, examinations:
Completion of the study program 90 ECTS credits: Major field of study 64 credits, courses related to master's thesis module 18 credits, elective courses 5 credits and free selective courses min 3 credits; defense of the Master's thesis 30 ECTS credits.

Final certificate, diploma, qualification certificate:
Master's diploma, Diploma Supplement

Obtained degree:
Master of Arts in Social Sciences/ Sotsiaalteaduse magister

Careers
Graduates from our program work in the private and/or public sector - embassies, government organizations, universities, theatres, museums, NGOs, foundations (e.g. Kultuurikatel, PÖFF film festival, Jazzkaar festival) and private sector companies. Ninety-eight percent (98%) of our graduates are employed in the field of culture and creative industries.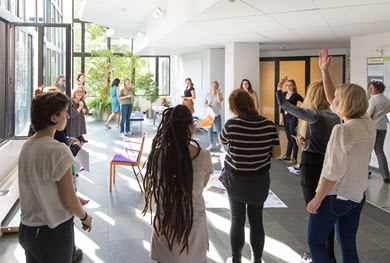 Entry Requirements
Successful candidates do not need to have previous qualifications in culture or the arts but must have at least a Bachelor's degree and a specific interest or practical experience in a cultural field. We welcome all candidates with a keen interest or practical experience in cultural entrepreneurship. A maximum of 23 students will be accepted in 2018. The tuition fee for the cultural management program is 2500 € per year. The academy's Rector holds the right to reduce the tuition fee for a limited number of cases. International and local candidates will be assessed based on the same criteria and the results of the entrance essay and interview. The detailed topic of the essay will be announced in January.
Application deadline: June 4th, 2018.
Documents required:
application form (through dreamapply.com);
a document certifying your completion of the previous educational level including a certificate with grades or a diploma supplement (both the original and a copy);
1 passport photograph (30x40 mm);
an ID card or passport with a copy of the personal details page including your personal identification code;
document certifying change of name, if the applicant has had a name change (both the original and a copy);
CV in English;
an essay in English (3-5 A4 pages) on a topic related to cultural management (topic to be announced).
Documents are to be submitted to the Admissions Committee. Documents submitted shall not be returned.
All candidates shall apply through www.dreamapply.com. Upon admission, candidates may also initially send copies of their documents electronically to vastuvott@ema.edu.ee and anna@ema.edu.ee. Originals (or certified copies) can be presented or sent to the Academy later.
Entrance interviews will take place in Tallinn at the end of June. A video-interview via Skype is possible for foreign students. The time for the interview will be scheduled with each candidate individually. The interview will be held in English.
Miscellaneous
Accommodation: Our students can rent a room at our new dormitory in the city center. Muusa Majutus has been established by the Estonian Art Academy and Estonian Academy of Music and Theatre.
Contact Person:
Anna Maria Ranczakowska
Program Coordinator
Cultural Management International MA Program
Center for Cultural Management and Humanities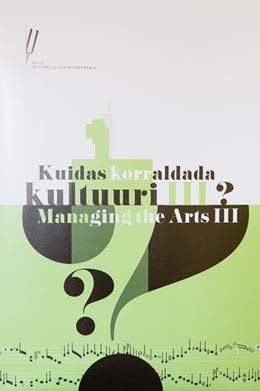 Last updated Jan 2018
About the School
The mission of the Estonian Academy of Music and Theatre is to contribute to the development of a human-centred Estonian society, the spread of a creative mindset and the preservation of the Estonian ... Read More
The mission of the Estonian Academy of Music and Theatre is to contribute to the development of a human-centred Estonian society, the spread of a creative mindset and the preservation of the Estonian language and culture through education in the fields of music and theatre and the promotion of creative and research work.
Read less