Master of Science in Water Engineering (WE)
Home ›
MSc ›
Master of Science in Water Engineering (WE)
Program Description
Master of Science in Water Engineering (WE)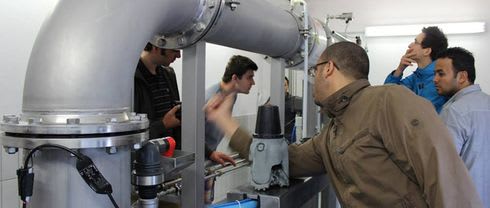 Welcome to the Master's program of Water Engineering
The advanced Master's program in Water Engineering at Campus El Gouna, the physical branch of TU Berlin at the Red Sea, provides an outstanding education in key sectors of an integrated water resource management. The novel program in Water Engineering is deeply rooted in the long-standing tradition of the TU Berlin, designed for the specific requirements of (semi-)arid countries and regions, e.g. groundwater management, water/wastewater treatment and treated wastewater reuse. On the successful completion of the program, students will graduate with an official Master of Science in Water Engineering from TU Berlin.
Background and Challenges
In the last decades, water resources have been under increased pressure, caused by the gap between the need for water and its availability in terms of both its quality and quantity. This is a particular problem in arid and semiarid regions. Beyond traditional sectors where water is in high demand, this phenomenon is being intensified by rapidly growing populations, increased agricultural irrigation for food production, intensified urbanization, and climate change. To overcome this dilemma, a water resources management that follows an integrated and interdisciplinary approach is widely proposed, including the sustainable capacity building.
To address these challenges, the master's degree program in Water Engineering was developed to focus on the specific requirements of arid and semiarid countries and regions in the fields of hydrogeology, hydraulics, water exploitation, water treatment, water supply, wastewater treatment, treated water reuse and sustainable water resources management.
Tasks and Objectives
The program aims to:
provide students with broad, technical-orientated knowledge in water-related engineering and natural sciences,
determine the complex challenges facing the water sector in dry climate regions,
develop appropriate academic and scientific problem-solving strategies,
teach students how to work in international project teams on multidisciplinary topics in order to deal with water in a sustainable, integrated manner.
The two-year, full-time, modular-based program was designed to full-fill the requirements of the European Education Ministers' 1999 Bologna declaration for the European Higher Education Area.The study program is organized in four main areas of expertise: Water and Wastewater Treatment, Water Sciences, Hydro-Engineering Infrastructure, Interdisciplinary Studies and Intercultural Competence, completed by an Internship and the Master's Thesis (120 credits in total).
Courses are offered mainly in El Gouna, Egypt. Experience abroad will be gained via an excursion, internship and facultative language courses which take place in Germany (2-3 months). The master's thesis can be conducted at any location of the students' individual preference (6 months).

Study Areas and Modules
The Master's degree program Water Engineering is a two-year long, full-time, advanced post-graduate course. The majority of the courses are held at the El Gouna campus in Egypt. The students spend the second semester in Berlin, an outstanding opportunity to experience Germany's fascinating capital and attend courses at the university's main campus. The master's degree program in Water Engineering is fully taught in English and covers the following core study areas (I-VI):
(I) Water Treatment
Water Supply and Sanitation I
Water Supply II
Water Sanitation II
Industrial Wastewater Treatment
Water Reuse Technology
(II) Water Science
Water Chemistry
Water Biology
Engineering Hydrology
Basic Hydrogeology
Applied Hydrogeology
Field Hydrogeology
(III) Hydro-Engineering Infrastructure
Hydraulic Engineering and Modeling of Hydrosystems
Environmental Hydraulics
Water and Wastewater Transport
(IV) Interdisciplinary Studies and Intercultural Competence
Water Economics
Integrated Project I
Integrated Project II
Intercultural Communication
Excursion in German
(V) Internship
(VI) Master's Thesis
Main focal points of the curriculum are:
The main focal points of the curriculum are:
Conventional and advanced treatment of water and wastewater, wastewater discharge systems, decentralized sanitation solutions, water tanks and networks, sludge treatment, sludge disposal and water reuse;
Engineering hydrology, basic, applied and field hydrogeology, modeling of water-related and environmental systems for sustainable exploration of water resources, especially groundwater;
Biological and chemical aspects of water quality management, including water resource protection;
Modeling of hydro-systems and hydraulic engineering as well as water and wastewater transport;
Fundamentals of international water legislation, economics and socioeconomic aspects of water;
Two project management blocks on "Integrated Water Resources Management" (IWRM);
Soft skills, intercultural competence, and scientific work;
Practical experience, including work in the laboratory and at test stands, field trips, demo site excursions and an industry internship.
Teaching and Learning Methods
Addressing a sustainable approach to teaching, conventional methods such as lectures, seminars, and self-studies are completed by integrated courses, field trips, internships, integrated projects and an industry internship. To enhance the international character of this program, all courses are held in English. Classes are held by established international professors and lecturers of the Technische Universität Berlin, all of them specializing in water-related fields. Associated professors may also broaden the scientific expertise. This enables a permanent integration of cutting-edge applied research into the course content.
Experimental, Modeling or Analyzing Exercises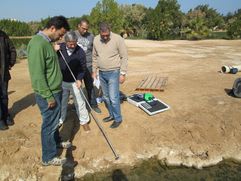 Compared with lectured courses where professors mainly teach students in regular lecture sessions, integrated courses deal with topics in various methodological forms, ranging from experimental, modeling or analyzing exercises, case studies and group work to presentations, in order to support participation.
Seminars encourage the independent academic and scientific exploration and a deepening of the students' knowledge of specific topics and issues.
Limited Number of Students and small Project Groups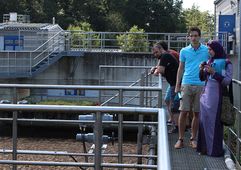 Lectures, exercises, seminars or field trips are given at the campus in the form of block courses. The workload for each module also includes time for pre- and post-preparation and exam preparation which can be conducted in self-studies or group work, depending on the respective course. Written, oral or equivalent exams (e.g. presentation, report) are possible.
Finally, extensive monitoring and individual support are guaranteed by several research assistants, a limited number of students and small project groups, as well as through the framework of twin-supervision with cooperation partners.
Excellent Working Conditions
Students in the program enjoy excellent working conditions, with ample study space, library access to the TU Berlin main library, the Departments library and the Embassy of the Bibliotheca of Alexandria in El Gouna.
They also have access to IT equipment (PC room). Moreover, field trips allow students to attend instruction and gain knowledge of their field outside of the university setting. A practically-orientated study is assured by work with state-of-the-art laboratory equipment (like AAS, ICP, HPLC, GC etc.) and field equipment (like Geoprobe) as well as the work at test stands and pilot units. To further support the transfer of the students' knowledge into practice and to enhance the interdisciplinary exchange, cooperative, practical projects are undertaken together with students from the Energy Engineering and Urban Development departments in the framework of the Integrative Project II, possibly also in the master's thesis.
With the goal of providing students with insights into potential subsequent fields of employment ranging from the local to the international market, an industry internship may be completed at any facility or institution that works in the field of water engineering anywhere in the world.
Business and Academic Opportunities
Students from the program are awarded an official master's degree from the Technische Universität Berlin in Water Engineering. The demand for knowledgeable engineers trained in the use and development of innovative technologies for water exploitation, water treatment, and reuse, furthermore acquiring the competence to manage water resources in a versatile and integrated manner is rising, especially in arid and semiarid regions. Graduates of the master's degree program are qualified to work in leading positions in the local, regional, national or international context of sustainable water engineering. They are able to work in the private sector, governmental institutions, non-governmental organizations, associations and consultancies and are also qualified to apply for international Ph.D. programs at research institutes, universities or in industry.
Apply Now All Year Round
We have removed the fixed application periods for our three Master's programs in Energy Engineering (EE), Urban Development (UD), and Water Engineering (WE). The programs commence once per year in October. You can now apply for the next intake up to twelve months in advance.
We expect this change in procedures to significantly enhance the chances of our prospective students to find suitable scholarships, as many donor organizations require several months to process funding requests. We, therefore, advise all interested students to apply for our Master's programs as early as possible. After reviewing and approving your application documents, we will issue a Letter of Acceptance, which you can submit to scholarships providers with a request for financial assistance.
To avoid misunderstandings during your application, we would like to stress that our Master's programs take place in El Gouna, Egypt (two or three semesters, depending on the program), and Berlin, Germany (one semester or one-month excursion, depending on the program). The tuition fees for our two-year Master's programs amount to €20,000. For further information, please consult our FAQ section.
Application Periods
In order to enhance the application process, there are three different application periods.
Early Application - until 28 February 2017:
Applications submitted by 28 February 2017 will be answered as soon as possible with a Preliminary Letter of Acceptance under the condition that all documents (including transcripts) have been delivered and the applicant meets the eligibility criteria. This procedure supports our candidates' quest to obtain external funding or scholarships.
Regular Application - 1 March until 31 May 2017:
All documents have to be submitted and only complete applications will be processed. We expect applicants of this group to arrange their own funding as it is difficult to obtain any scholarships on such short notice.
Late Application - 1 June until 31 August 2017:
After the end of the regular application period, you can still apply for our Master's programs until the maximum number of students for each program has been reached. All documents have to be submitted and only complete applications will be processed. We expect applicants of this group to arrange their own funding as it is difficult to obtain any scholarships on such short notice.
Last updated Aug 2019
About the School

Campus El Gouna was established to act as a scientific and academic field office of Technische Universität Berlin on the Red Sea in Egypt. In its new satellite Campus in El Gouna, TU Berlin offers thr ... Read More
Campus El Gouna was established to act as a scientific and academic field office of Technische Universität Berlin on the Red Sea in Egypt. In its new satellite Campus in El Gouna, TU Berlin offers three Master degree programs and furthermore great possibilities for science, research and development and events of all kind.
Read less