Solvay Brussels School of Economics and Management, Université Libre de Bruxelles
Home ›
Belgium ›
Solvay Brussels School of Economics and Management, Université Libre de Bruxelles
• Solvay Brussels School
Solvay Brussels School is the faculty of economics and management of the Université Libre de Bruxelles, one of the largest universities in Belgium, with a century-old tradition of excellence in higher education. Each year the school, which is EQUIS- and AMBA-accredited, welcomes more than 4000 students, participating in over 30 programmes, including the Bachelor's, Master's, Advanced Master's, MBA's, executive education and in-company programmes. SBS-EM's mission is to have a decisive and positive impact on how economic and business challenges are addressed. The school strives to meet the most pressing economic and business challenges of our time with a unique blend of scientific rigour, contextual engagement and problem-solving skills.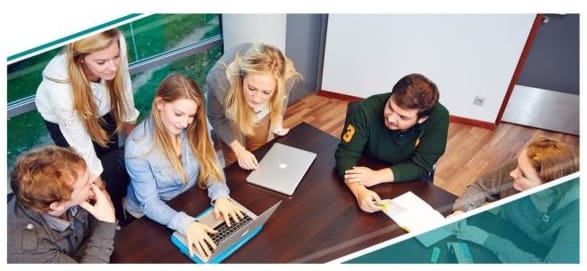 Solvay Brussels School's values:
Free inquiry, Excellence, Entrepreneurial spirit, Integration, Equal opportunity, Democratic governance, Societal relevance
• Brussels, international city and European capital
In the heart of Europe, just 1h20 by train from Paris, 1h30 from Amsterdam, and 1h50 from London and Cologne, Brussels offers all the advantages of a capital city and the quality of life of a large and lively town. Brussels is home to all the major European institutions. It is the official seat of the EU and many other political and economic decision-making entities and boasts a growing number of businesses, organisations and international experts. The long tradition of hospitality and exchange in Europe's greenest capital means visitors and residents alike can enjoy a broad mix of world food and music, while culture vultures can choose from a host of museums and shows.
• The Career Service
SBS-EM offers personal development activities - which provide practical guidance and individual coaching concerning the approach to the job market, workshops, writing a CV and application letters, interview simulations, etc. - and corporate events (lectures and seminars) with prominent business figures, presenting companies and their employment opportunities. Over the years, the SBS-EM has developed a network of recruiters and has established contacts with companies throughout Belgium and around the world.
• International Programme
With globalization now a reality, the School considers the opportunity to live and study abroad as being fundamental in the learning experience of the masters' students. The school provides many opportunities for mobility: the international exchange programme (one semester abroad - more than hundred partners), several double degrees (one year abroad), the growing QTEM networked master (two semesters abroad). Living and studying abroad is the best way for students to prepare themselves for a professional life and an international environment.
• Renowned Alumni
Marianne Bertrand, Professor of Economics, University of Chicago
Punit Bhatia, General Manager, ING (India)
Laurent Bouton, Professor of Economics, Boston University
Lior Cohen, Product Manager Banking & Treasury Markets, SWIFT
Eric Boyer de la Giroday, President, ING Belgium
Gaëtan de Rassenfosse, Research Fellow, University of Melbourne
Mathias Dewatripont, Director, National Bank of Belgium
Dominique Leroy, CEO, Belgacom
Izabel Medeiros, Expert Process Manager, ING Belgium
Olivier Pauls, Principal Wholesale Negotiations Manager, Vodafone Roaming Services
Peter Praet, Member of the Board, European Central Bank
Nicolas Steisel, Co-Founder & CEO, Exki
Jean Van Wetter, Country Director (Tanzania), VSO Talk
José Zurstrassen, Entrepreneur, Founder of Skynet and Keytrade Bank
More information: solvay.edu
Locations
Brussels
Address
Solvay Brussels School
Avenue F.D. Roosevelt 42
1050 Bruxelles

B-1050
Brussels
,
Belgium
Georgetown
Address
Georgetown
,
District of Columbia
,
USA
Milan
Address
Via Raffaele Lambruschini,4C
20156
Milan
,
Lombardy
,
Italy