IGR-IAE Rennes, Graduate School of Management
The school is a founding member of the national network of University Business Schools, the IAE France network, which comprises 33 select members throughout France.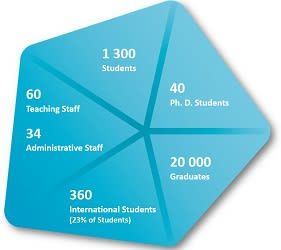 It is divided into three main departments: The School of Management, The Franco-Japanese Center of Management (CFJM) and The Regional School of Training for Chartered Accountants (IRPEC).
Research programs are supported by the Center for Research in Economics and Management (CREM), the only research center in economics and management in western France, accredited by the National Center for Scientific Research (CNRS). The CREM's main goals are to develop analysis and to conduct experiments and simulations in business, finance, management, and marketing, among other fields.
The University Graduate School contributes to the development of European studies in management science and is an active member of the Academic Council of the European Institute for Advanced Studies in Management (EIASM), and of the Steering Committee of the European Foundation for Management Development (EFMD). The school applies a selective entry process. On average, only one out of ten applications is accepted. In order to be admitted, all candidates are expected to present a realistic and well-thought-out career plan as well as their academic achievements and motivation.
In 2007, an extensive fundraising campaign resulted in launching the first-ever foundation created within the university business school network in France (Fondation IGR-IAE). Closely linked to the French Foundation, (Fondation de France), it aims to initiate and to support innovative programs (seminars, workshop, and conferences) with the goal of improving research and teaching in Management Science.
Locations
Rennes
Address
11 Rue Jean Macé
35708 Rennes
France
35708
Rennes
,
Brittany
,
France