Ritsumeikan Asia Pacific University (APU)
Home ›
Japan ›
Ritsumeikan Asia Pacific University (APU)
With over 100 years of tradition and history, the Ritsumeikan Academy opened APU in April 2000 as Japan's first genuinely international university. Our graduate schools welcome students into a fully English-based curriculum within a uniquely multicultural environment. The Graduate Schools at APU focus on Asia Pacific studies, with study options geared towards tackling the complex issues facing the societies and environments of the Asia Pacific region, as well as management, with a focus on the Japanese style of business and the dynamic world of international business. APU's Graduate Schools are fully accredited by the Japanese Ministry of Education, Culture, Sports, Science, and Technology (MEXT).
World Class Education
APU's graduate programs have been selected for several prestigious scholarship schemes in recent years, including the "Joint Japan/World Bank Graduate Scholarship Program" and the "Asian Development Bank-Japan Scholarship Program". Some of the other organizations which have sponsored our graduate students include the Indonesian Ministry of Finance, Japanese corporations, local government bodies and Japan International Cooperation Agency (JICA).
A Truly International Environment
The campus is a unique doorway to the world, attracting students and faculty from all over the globe. Our Japanese faculty members also come to us with diverse international careers and academic experiences. This extremely rich mixture of language and culture has earned APU the reputation of being Japan's "global village".
The Japanese Experience
As graduate school classes are conducted entirely in English, no prior knowledge of the Japanese language is required. However, for those with a keen interest to learn Japanese, beginner level classes are held specifically for graduate students at no additional cost. Immersed in the culture of Japan, students can put their new language skills to use on a daily basis.
International Accreditation
— As of August 2016 — Ritsumeikan Asia Pacific University is an accredited member of AACSB International-The Association to Advance Collegiate Schools of Business (http://AACSB.edu/) Ritsumeikan Asia Pacific University is one of only three institutions in Japan to achieve this accreditation. Out of these institutions, we are the only one offering an undergraduate business curriculum in both English and Japanese and have the only AACSB-accredited English language MBA program in Japan.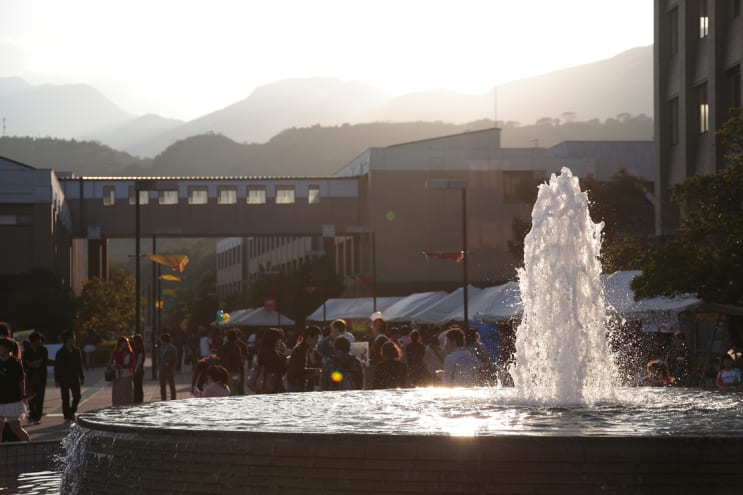 Locations
Beppu
Ritsumeikan Asia Pacific University
Address
1-1 Jumonjibaru, Beppu, Oita
874-8577
Beppu
,
Ōita Prefecture
,
Japan