MEL Erasmus Center for Maritime Economics & Logistics
Home ›
MEL Erasmus Center for Maritime Economics & Logistics
Read more on the school's website
Rotterdam is the world's 8th biggest port and, by far, the undisputed European champion, as a global maritime hub, but also as a large-scale industrial complex. By general recognition, the Netherlands, the gateway to Europe, is at the forefront of innovation in transport and logistics.
The country's shipping policy offers companies one of the most attractive business environments in Europe, successfully challenging all traditional shipping centres. Erasmus, Rotterdam's own university, is at the very centre of all this, distilling the country's knowledge infrastructure in its MSc Course in Maritime Economics and Logistics (MEL); a post-graduate/post-experience international programme aimed at transforming promising young professionals into tomorrow's leaders in business and government. And already for 466 of our alumni, this has proven to be true.
The programme prepares experts with modern economic and management tools for efficient decision-making, providing them at the same time with methods; concepts; and theories to enable them to understand and analyse, in a holistic and multidisciplinary way, the complexities of global maritime supply chains. In this way, MEL graduates are expected to be able to act and decide, with managerial style and determination, under complex and uncertain conditions, in a global economic and social environment.
The emphasis of our courses is on fundamental industrial, economic, and management concepts and methods, of lasting effect, that can be used to explain business practices on the one hand, and policy-making processes on the other. To this end, a combination of theory and practice is required. The more conceptual matters are dealt with by University staff while practical aspects are discussed by our partners, such as Maersk Line; Port of Rotterdam; Europe Container Terminals (ECT); BIMCO; DVB Bank; TBA, Rabobank, Stolt Tankers, APMT etc.
With students coming from all over the world; more than 50 academic and professional staff from the Erasmus Faculties of Economics and Business Administration; industry partners; visiting professors; and an extensive corporate network, the MEL Programme at the Erasmus University Rotterdam is a spearhead in the Netherlands' maritime cluster and an ambassador of the Nation's leading role in maritime and port-related logistics affairs.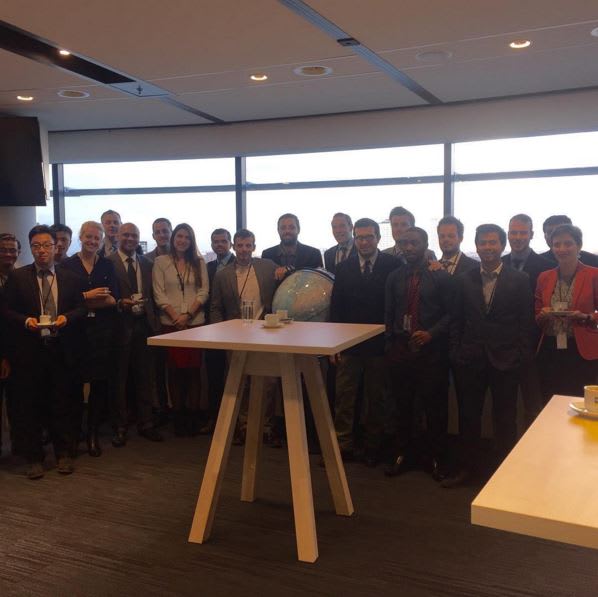 MEL is the only course of its kind that combines, in a holistic way, shipping, ports, terminal management, and maritime logistics in the academic environment of two of Europe's top Schools: The Erasmus School of Economics and Rotterdam School of Management. Along with academic excellence, MEL strives to achieve a fine balance between theory and practice. This is assured by the selection of our partners and the involvement of our Corporate Network. Through guest lectures, seminars and company visits, MEL students are continuously confronted with the preconceptions of 'conventional wisdom' and learn how to place them in their proper and wider economic perspective.
In addition, our extensive Corporate Network enables MEL students to seek employment opportunities in the most prestigious 'blue chip' organisations and, in some cases, take advantage of their infrastructure and information systems while writing their thesis.
The University's long tradition in transport studies started with the work on shipping and shipbuilding by our late colleague, Professor Jan Tinbergen, Nobel Prize Laureate in Economics. This tradition continues nowadays through the PhD programmes in transport and logistics at the Tinbergen Institute, the Erasmus Research Institute of Management (ERIM), and the Transport, Infrastructure and Logistics (TRAIL) Research Schools. Thus, cutting-edge research, often externally funded, finds its way to the classroom in a top-down manner. Emphasis on applied research is based on our firm belief that, notwithstanding the importance of 'research for the sake of research', in a discipline, as applied as transport and logistics the value of research is demonstrated by society's willingness to underwrite it.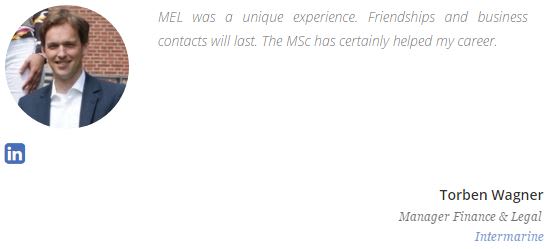 Rotterdam is a young dynamic international city, known for its culture and internationally-renowned architecture. In 2014 The New York Times placed Rotterdam in the top 10 of the 52 places in the world to visit. As the economic heart of the Netherlands, the largest port of Europe, and a vibrant city, Rotterdam is the ideal location to study Maritime Economics and Logistics.
I trust that this website answers your questions about MEL, and I look forward to welcoming you to Rotterdam and to our University.
Prof.dr. Bert de Groot
MEL Managing Director
Top 10 Reasons To Study MEL
Reputation of Erasmus University Rotterdam (EUR)
Consistently ranked as one of the top universities in the world by The Wall Street Journal, Financial Times, Times Educational Supplement, etc. The EUR is proud of its three winners of the Nobel Prize in Economics: Jan Tinbergen (1969), Tjalling Koopmans (1975) and Sir Clive Granger (2003).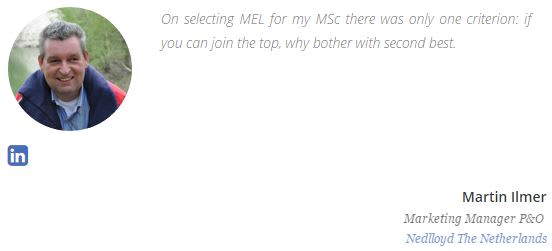 Fully Accredited
By decision of the EUR Board of Governors, the MEL programme is offered jointly by the Erasmus School of Economics and the Rotterdam School of Management. Both Schools are jointly the degree-awarding bodies. MEL enjoys a double accreditation by NVAO (Netherlands Flemish Accreditation Organisation) and AACSB (Association to Advance Collegiate Schools of Business). This means that the MEL Degree can be officially certified by the Ministry of Education of the Netherlands and it is, therefore, a fully recognised degree worldwide.
Corporate Network
The MEL Corporate Network comprises more than 50 'blue chip' multinational companies and organisations. Most notable among them are the Port of Rotterdam; Maersk Line; APM Terminals; BIMCO; Stolt Tankers; Vopak; DVB Bank; and Hutchison Port Holdings (ECT). Companies that join the Corporate Network do so by recognising MEL's role in educating top maritime professionals, in conducting research and being a knowledge and excellence centre in the sector. Corporate Network members provide peer advice on future MEL direction, interact with MEL students through lectures, social events, and recruit among MEL students.
Alumni Community
Our alumni network is one of our most valuable assets; we follow the professional achievements of our graduates with pride. As a graduate of MEL, you can join the alumni community and gain access to the MEL alumni network area. A number of MEL alumni also return to the classroom and provide the Alumni Lecture Series (ALS). MEL alumni who are now active professionals share their experiences since graduation with the current MEL class and provide the MEL class with the opportunity to learn about how MEL helped advance their career.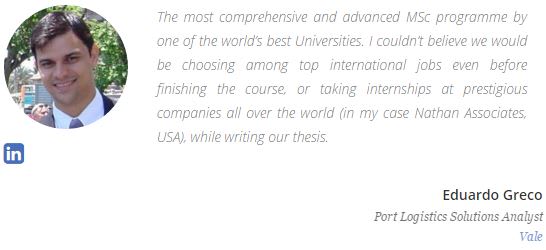 Top Lecturers
The MEL lecturers are a mixture of Erasmus University faculty members and successful businessmen and women. This way we ensure that the MEL students are instructed by both entrepreneurs and academics. A number of MEL lecturers have been nominated for and received awards.
Comprehensive Curriculum
MEL places substantial emphasis on including the views, experience and requirements of the industry in the design, contents and development of the MEL curriculum. Intensive industry consultation has proven successful not only in attracting top students but also in gaining recognition of MEL as the leading MSc in the sector. MEL is the programme that coined the term maritime logistics, i.e. the holistic, integrated approach to the study of international transport, ports, terminals and global logistics. Following extensive industry consultation, MEL has compiled a curriculum of 15 modules which aim – through their philosophy and individual learning objectives – at composing a holistic and tightly knitted, integrated, approach to the understanding and analysis of global maritime supply chains of production-transport-distribution, where ocean transportation and port and terminal management play a pivotal role.
ERIM Research Institute
In terms of research and education, most of the MEL Resident Faculty participates in the Business Processes, Logistics and Information Systems (LIS) programme of the Erasmus Research Institute of Management (ERIM). ERIM was recently assessed as one of the top three management schools in Europe and it is accredited by the Royal Netherlands Academy of Arts and Sciences (KNAW).
MEL Research
For years, MEL research has 'defined' the field of maritime economics and logistics. Most of our research has been funded by external organisations such as the European Commission and The World Bank. Consultancy work has taken MEL to the four corners of the earth, from Korea to Brazil and from Norway to Greece. The academic staff publishes in leading journals. Cutting-edge research is presented at academic conferences.
Truly International
Several bachelors's, majors and virtually all master's programmes of our University are given in English. In recent years the EUR campus has become so international that, walking around these days, you will find it difficult to hear any other language but English. The MEL classroom typically has nationals from between 15 to 20 different countries.
Rotterdam
Rotterdam is a young dynamic international city, known for its culture and internationally-renowned architecture. In 2014 The New York Times placed Rotterdam in the top 10 of the 52 places in the world to visit. As the economic heart of the Netherlands, the largest port of Europe, and a vibrant city, Rotterdam is the ideal location to study Maritime Economics and Logistics.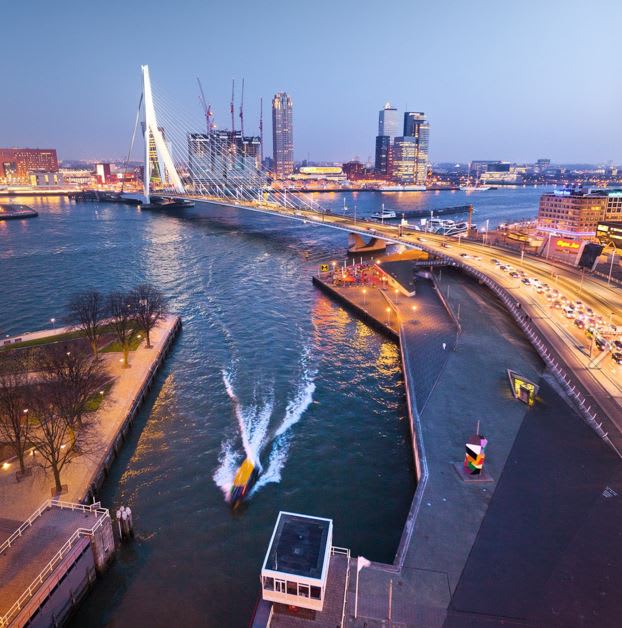 Locations
Rotterdam
Center for Maritime Economics and Logistics - Erasmus University Rotterdam
Address
Burgemeester Oudlaan,50
3062 PA
Rotterdam
,
South Holland
,
Netherlands
Accreditations