Vrije Universiteit Amsterdam
Vrije Universiteit Amsterdam ('VU Amsterdam') is an internationally renowned research university founded in 1880. The university offers over 175 English-taught programmes at Bachelor's, Master's and PhD level to more than 26,000 students from all over the world. Students and staff of 122 nationalities create a dynamic international academic community.
VU Amsterdam is located in the vibrant city of Amsterdam, one of the most multicultural cities in the world, with the largest concentration of students in the Netherlands and where English is the second language spoken. The campus is surrounded by one of the most dynamic and fast-growing business districts in the Netherlands hosting over 700 companies.
With more than 26,000 students, of which 4,088 are international, VU Amsterdam conducts cutting-edge research into problems of societal and scientific importance. We distinguish itself in research and education through four interdisciplinary themes: Human Health and Life Sciences, Science for Sustainability, Connected World and Governance for Society. As a student this will help you to look beyond the boundaries of scientific disciplines, and to seek for tangible solutions for a better world.In addition, VU Amsterdam regards diversity, whether in culture, conviction, nationality or prior education, as source of innovation and progress, and hence as special strength.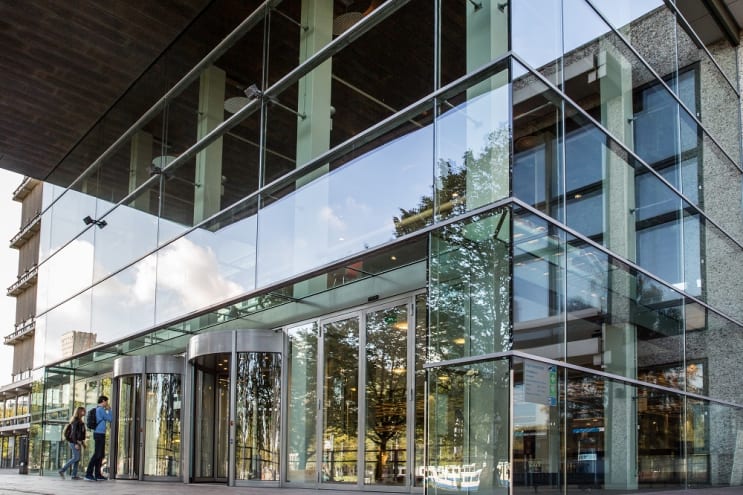 Quality of education
Vrije Universiteit Amsterdam (VU) has a sterling reputation for the fine quality of its teaching. You work in relatively small groups, in which considerable emphasis is placed on interaction and a personal approach. The teaching is well-organized. This is reflected, for instance, in the clear structure of the study programmes.
Open Days
Do you want to get to know Vrijde Universiteit Amsterdam and all of their programmes? 'Then join our open days!
Bachelor Open Days 30 & 31 October
Click here for more information and here to pre-register!
Master's Evening 1 December
Click here for more information and to pre-register!
Master's Webinar 5 November 2020
An online webinar hosted by the International Office. They will guide you throughout the application process, and they can help you with your accommodation and visa. The intended audience for this Master's event are students who intend to start a Master's programme in September 2021. Click here to register.
Meet us in your own country
VU Amsterdam is frequently present at international education fairs around the world. It will be a pleasure to meet you at our stand! Please join one of our presentations, take a brochure or flyer and ask our colleagues and alumni about all that you need to know about studying at VU Amsterdam.
Lively Amsterdam
The university is located in the vibrant city of Amsterdam, one of the most multicultural cities in the world, with the largest concentration of students in the Netherlands and where English is the second language spoken. As a student of VU Amsterdam, you stand to benefit from all the advantages offered by the capital. In just over fifteen minutes you are in the lively centre of Amsterdam, where there are numerous shops, places of entertainment, parks, and pavement cafes. Amsterdam is safe and English is widely spoken.
Personal supervision
VU Amsterdam devotes considerable attention to personal study advice. Right at the start of your course of study, you will be introduced to your programme's study advisor. This person will offer you advice about any problems that you might have with your course of study, and answer questions about the job market.
Unique identity
VU Amsterdam was the first university in the Netherlands established by a private person, with no interference from the church or the state. This heritage is still very much part of who we are: VU stands for Vrije Universiteit, which translates literally as 'Free University.' From the very beginning, the university has determined its own areas of research, created its own study programmes and practised its own didactic methods.
Easily accessible
Vrije Universiteit Amsterdam is readily accessible by public transport. Schiphol Airport is only eight minutes away by train. Amsterdam Zuid Station is within walking distance of VU University Amsterdam. There is also a rapid tram connection to Amsterdam Central Station or Amsterdam Sloterdijk Station, with a journey time of just sixteen minutes. VU Amsterdam is also easy to reach by car, being situated close to Amsterdam's orbital motorway.
University campus
Almost all of our students, staff and programmes are located on campus: a single building complex in the business district of Amsterdam. Accordingly, in the course of your studies, it is very easy to familiarize yourself with other disciplines.
Accreditation
Vrije Universiteit Amsterdam is fully recognized by the Dutch Ministry of Education as a research university. All degree programmes at VU University Amsterdam are either accredited by or in the process of being accredited by NVAO, the Accreditation Organization of the Netherlands and Flanders. This body was established by international treaty and guarantees the quality of higher education in the Netherlands and Flemish-speaking Belgium through the accreditation of study programmes.
Types of programmes
VU Amsterdam offers four types of programmes:
Bachelor's degree programmes (leading to BA/LLB/BSc)
Master's degree programmes (leading to MA/LLM/MSc/MPhil)
PhD/Doctorate programmes (leading to PhD/Doctorate)
Non-degree programmes (Study Abroad & Exchange/ Summer/Winter School)
Scholarships
With our own scholarship, the VU Fellowship Programme (VUFP), we offer highly motivated students with excellent study results the unique oppurtunity to pursue a Master's degree with financial support provided by the university. The VUFP scholarship is a tuition fee waiver. The Holland Scholarship Programme (HSP) is meant for students from outside the European Economic Area (EEA) who want to follow a Master's programme in the Netherlands. VU Amsterdam embraces diversity as an enrichment to our teaching, research and our contribution to society. This scholarship is specifically intended for excellent students who contribute to the diversity at our campus. As a international student planning to study at VU Amsterdam, you can apply for a variety of grants and bursaries. Detailed information about scholarships and deadlines can be found on WWW.VU.NL/SCHOLARSHIPS OR WWW.GRANTFINDER.NL.
VU Fellowship Programme
The VU Fellowship Programme (VUFP) offers talented prospective students the unique opportunity to pursue a degree in a selection of Master's programmes at VU University.
Organization
VU Amsterdam is a traditional Dutch university presided over by an Executive Board (three members) and has 10 faculties directly under the Executive Board. Each faculty provides one or more Bachelor's degree and Master's degree programmes and carries out research. They are all organized differently, but most have a board, a central staff and several departments and graduate schools. The university also has a number of service departments, of which the International Office is one, and there a number of interdisciplinary research institutes.
Private or public?
VU Amsterdam is one of 14 public universities which are recognized by the Dutch Ministry of Education and is therefore partially government-funded. Under the Dutch system, the government subsidizes recognized universities on the basis of their student numbers and also sets limits and guidelines for the tuition fees that these universities are allowed to charge. This ensures access to quality higher education for all Dutch citizens, rich or poor. VU Amsterdam welcomes applicants from all backgrounds.
VU International Office Services
Find out if you require a visa/residence permit and how this will be arranged.
Information on accommodation at VU Amsterdam.
Registration at the municipality
When you have arrived in the Netherlands you must register with the municipality. Find out what you need to do.
After your arrival, numerous introductory activities will take place at VU Amsterdam.
Curious about student life at VU Amsterdam? Click here to ask our International Student Ambassadors.
Locations
Amsterdam
VU University Amsterdam
Address
Main building Vrije Universiteit Amsterdam
De Boelelaan 1105
1081 HV
Amsterdam
,
North Holland
,
Netherlands